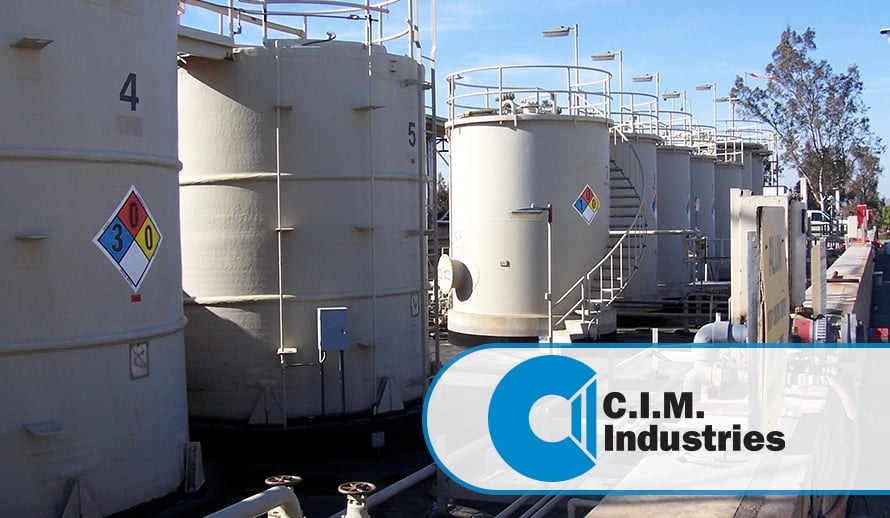 The construction industry faces many safety challenges as the work environment is always changing in response to the specific job at hand. One of the most challenging environments is working within confined spaces. There are numerous safety regulations in place meant to keep construction workers safe.
What Is a Confined Space?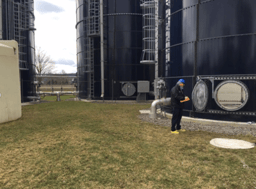 Image: Manway entry into a biosolids storage silo
A confined space is an area that has a limited or restricted means of entry or exit. It can be large enough for a person to enter to perform tasks but is not designed or configured for continuous occupancy. The Occupational Safety and Health Administration (OSHA) refers to these spaces as "permit-required confined spaces." This classification requires workers to have a permit to work in these areas. The permit process calls for the details of the confined space to be well defined so that it is clear why the site is hazardous. Also included are the proper precautions necessary to keep the worker safe. Examples of confined spaces vary by industries, but they can include tanks, silos, hoppers, vaults, and pipelines. Additionally, areas that were previously "not confined" can become "confined" due to the blocking or obstruction of entryways and exits.
Why Are Confined Spaces Hazardous?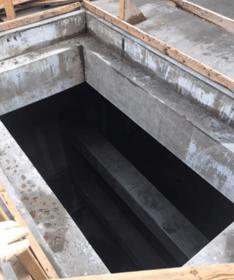 Image: Manway entry into a below-grade storm water detention tank
Aside from the limited access to entrances and exits, confined spaces can be hazardous for multiple reasons. These include their atmospheric conditions, the ability to engulf a person within the confined space, and the potential for the person to become trapped or asphyxiated in the area.
The reason a confined space might have poor atmospheric conditions is that it often lacks proper ventilation, indicating that oxygen levels might be low or that chemicals may accumulate into the breathable air at a faster rate than they would without confinement. In some cases, flammable materials could ignite, and a worker would be unable to escape safely.
There are regulations concerning how these areas are detailed to avoid confined spaces from becoming hazards.
Safety Regulations in Confined Spaces
Although regulations can vary from state to state, OSHA makes these spaces safer by implementing federal minimum standards, rules, and recommendations.
According to OSHA's rule published in 2015, there are six fatalities and over 800 injuries each year among construction workers operating in confined spaces. Regulations require the identification of confined spaces, hazard removal when appropriate, atmospheric monitoring, permit issuance, training, and rescue procedures to enhance safety and potentially prevent nearly all the injuries and deaths that previously had occurred.
OSHA's information regarding confined spaces, requirements for working in these spaces, and training programs are available at https://www.osha.com/courses/confined-space-construction.html.
Personal Protective Equipment (PPE)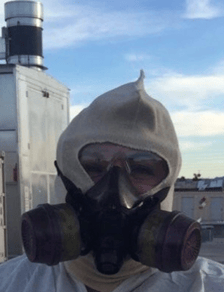 Image: Personal protection equipment
The materials used, the product safety data sheets, the location of the job, the scope of work, and the conditions where the work is performed are a few items that aid in determining the types of PPE a person is required to wear. Some confined spaces are hazardous by nature, such as areas contaminated with mold or asbestos. Others become hazardous because of the type of work done in them. In construction, this often involves liquid paints and coatings such as urethane, polyurea, and epoxy. Each chemical used presents a different hazard, and other materials require additional PPE. The requirements for the safe application of chemical-containing liquids are on safety data sheets (SDS). The construction company should have an SDS for each product used in their course of business.
Potential PPE requirements:
goggles
suits
gloves
face shields
respirator
full-face respirators
loose-fitting hood respirators
supplied-air respirators
Protective equipment is essential to safeguard workers' welfare in limited spaces.
Safety First in Confined Spaces
It is common for workers in construction as well as other industries to disregard safety in place of getting the job finished faster or easier. Unfortunately, it becomes so commonplace that workers consistently put themselves and others in potential danger.But complacency can become deadly, especially when a person is working in a confined space. Many dangerous conditions can be made worse by the small size of the area or the inability to escape. Manufacturers' product safety data sheets, your company's safety management team, and OSHA rules and regulations provide information and guidance on how to remain safe. Ultimately, it is up to you to make sure you heed their recommendations and keep yourself and others around you healthy by adhering to confined space safety standards.
CIM's two-part urethane fluid-applied liners and coatings have been keeping liquids where they belong for over 35 years. Our team of technical consultants is available to assist you with product information to meet your coating needs; please contact us.