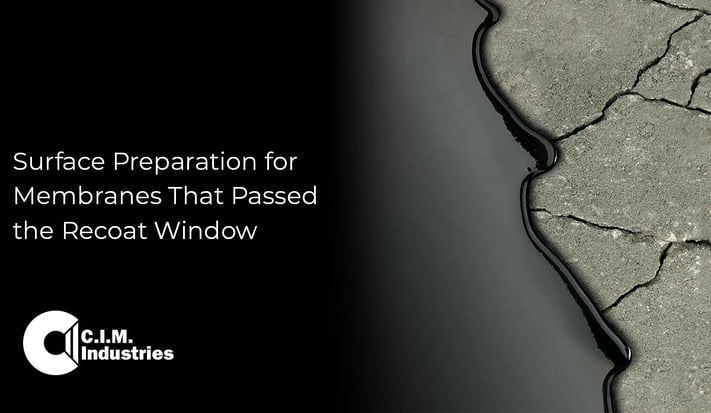 It's said that two heads are better than one. The same principle applies to waterproofing membranes. Typically, you apply a layer of CIM waterproofing, wait for one to four hours, then apply your second layer. This is all after choosing a waterproofing membrane, of course. This is the recoat window for most membranes, and it marks the period of maximum adhesion between layers. That said, there are innumerable reasons why you may miss this recoat period.
It happens, and it isn't an issue for experienced applicators. With the right tools and technique, you can abrade (rough up) the surface of the membrane to improve its ability to bind well after the surface has set.
Let's look at the tools and techniques for surface preparation passed the recoat window.
Tools for Surface Preparation
There are three main tools that sufficiently abrade CIM membranes. Some are better than others, but each has unique benefits that may be better suited for applications. These tools are:
Wire Brushes
Sidegrinders with Wire Wheel Attachment
MBX Bristle Blasters
The running theme of all three tools is their course bristles which excellently texture the surface. For a detailed demonstration of all three, please watch the video embedded below.
Related Article: Hand Applied vs Spray Applied, What's Best for You?
The wire brush is an intense, manual process. This is a good choice for situations when power tools are unavailable. These brushes take time and energy—a good deal of both to boot. Still, with patience and endurance, your surface will be more than ready for its second coat.
Sidegrinders work well. As a power tool, they require less manual effort to prepare. The coarse bristles work well, but often prove tricky to get a consistent finish. With some diligence, you'll find your surface ready quickly.
The best option (and by a wide margin) is the MBX Bristle Blaster. This tool makes short work of any surface, quickly and consistently abrading the membrane to an ideal condition. For membranes passed the recoat window, there is no better method of preparation than the MBX Bristle Blaster.
Waterproofing before the recoat window expires is just one of many things to consider when waterproofing. For instance, are you prepared to combat osmotic blistering between your surfaces? What about preparing for cold weather waterproofing applications? We have you covered!
For more information on surface preparation and waterproofing membranes, please read our blog and subscribe to our mailing list. We update our blog consistently with helpful resources on all things waterproofing. If you're interested in speaking with an expert, contact us below! We are more than happy to assist with any waterproofing questions you may have.