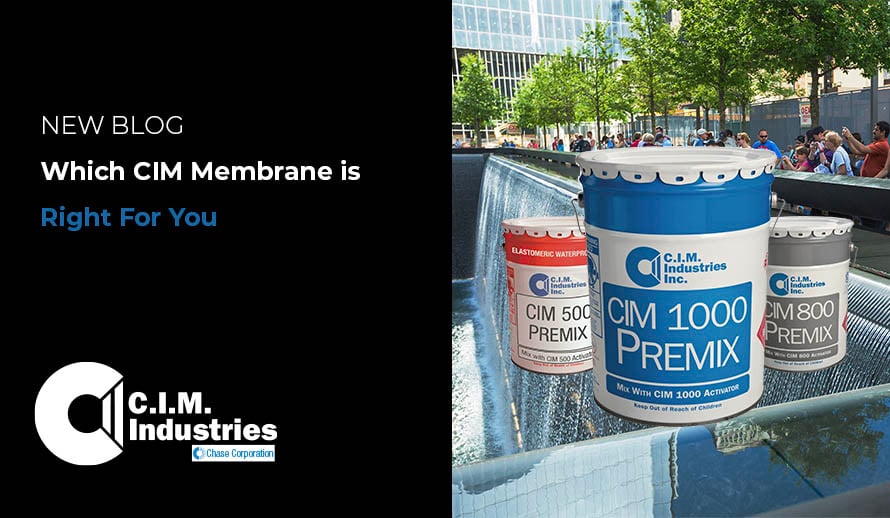 Chevron raised the standards on cold fluid-applied waterproofing membrane applications when they introduced a urethane coating system for synthetic running tracks in the 1960s. Over several decades, this urethane technology morphed into a waterproof bridge deck membrane, now widely recognized as Chase Industrial Membranes (C.I.M. Industries), the leader in the industrial waterproofing market.
Today, six different products represent the C.I.M. line. While all six feature the same technology as the original coating, they have been formulated with key differences to meet various jobsite application requirements. The significant differences are in some of the material's physical properties, such as differing viscosities and material flow properties better suited in vertical and overhead applications, tighter specifications to meet industry approvals, certifications to adhere to NSF61/ANSI specifications for potable water applications, and additional chemical resistivity for harsh secondary containment areas.
Related Article: How to Successfully Apply Cold, Fluid-Applied Waterproof Membranes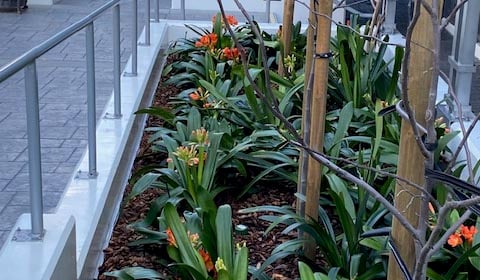 CIM 500 used in a planter box.
Technical Data Sheets for C.I.M. Membranes
The robust characteristics of urethane coatings make them appealing to architects and engineers who seek to specify high-quality, long-term, high-performance waterproofing systems. The features and benefits of C.I.M. are not limited to the membrane's rugged, durable, and resilient performance in abrasive environments. The product's flexibility and elastomeric properties are demonstrated by 400% elongation and its ability to bridge cracks in concrete up to 1/4 inch (6 mm). A low permeability rating of 0.03 perms sets C.I.M apart from other urethane systems.
How to Choose a Waterproofing Membrane
When choosing a waterproofing membrane, it's important to ask yourself the following questions to ensure you pick a product that best matches your particular use case. Otherwise, you may make one of many common waterproofing mistakes.
Ask yourself:
Am I seeking a fast curing, low V.O.C. coating system for critical spaces?
Does the project require a reliable membrane that can withstand foot traffic within three hours of application?
Are there environmental concerns such as continuous U.V. exposure, applications in low-temperature conditions, or secondary containment conditions?
Will the membrane be subjected to constant immersion?
Can the waterproofing coating be repaired if damaged?
Which waterproof coating product is best for my project?
Take a look at the following guide to help you choose the right product for your next project.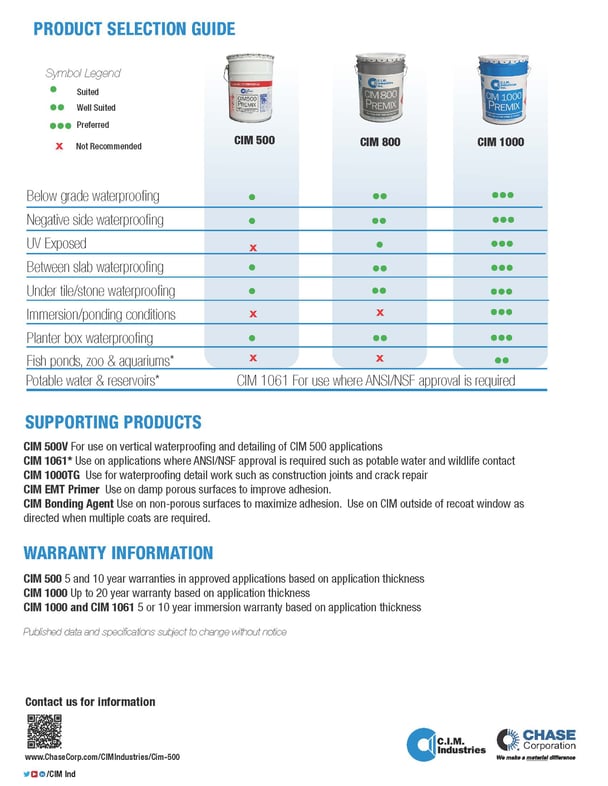 View the expanded guide
A review of the project's specifications and requirements for waterproofing products and installation is crucial. Some critical components to consider during the product selection process are surface preparation, substrate conditions, project and manufacturer's details, and installation procedures. Completing mockups, testing and inspection requirements, protection and repairs, and coordination and sequencing of waterproofing work will aid in the long-term performance of the coating system.
The locations of the waterproofing system components will dictate the product selection. For example, the vertical or trowel-grade products are often applied on walls and overhead applications, while the self-leveling materials are ideal for horizontal surfaces. Contact the manufacturer for application recommendations when using self-leveling membranes on vertical surfaces. Product datasheets, application guides, and drawings offer information essential to the types of substrates, joints, corners, and edge conditions, including flashings, counter-flashings, penetrations, transitions, and terminations that will receive the coating.
Related Article: Selecting a Waterproofing Application Method - Hand vs. Spray Applied
Typical Applications for Waterproofing Coatings
planter boxes
fountains
water features
primary and secondary containment
plaza decks, parking decks, and balconies
pools and fishponds
green roofing, specialty roofing, and repairs
below-grade and between-slab waterproofing
utility vaults
cooling towers
water and chemical storage tanks
bathroom and shower construction
In closing, consider your application requirements when making a product selection. When in doubt, contact a C.I.M. representative for assistance.
Related Article: 8 Reasons Why Hiring a Trained Applicator is a Smart Move
C.I.M.'s two-part urethane fluid-applied liners and coatings have kept liquids where they belong for over 50 years. Our technical representatives can assist you with product information to meet your coating needs; please contact us.