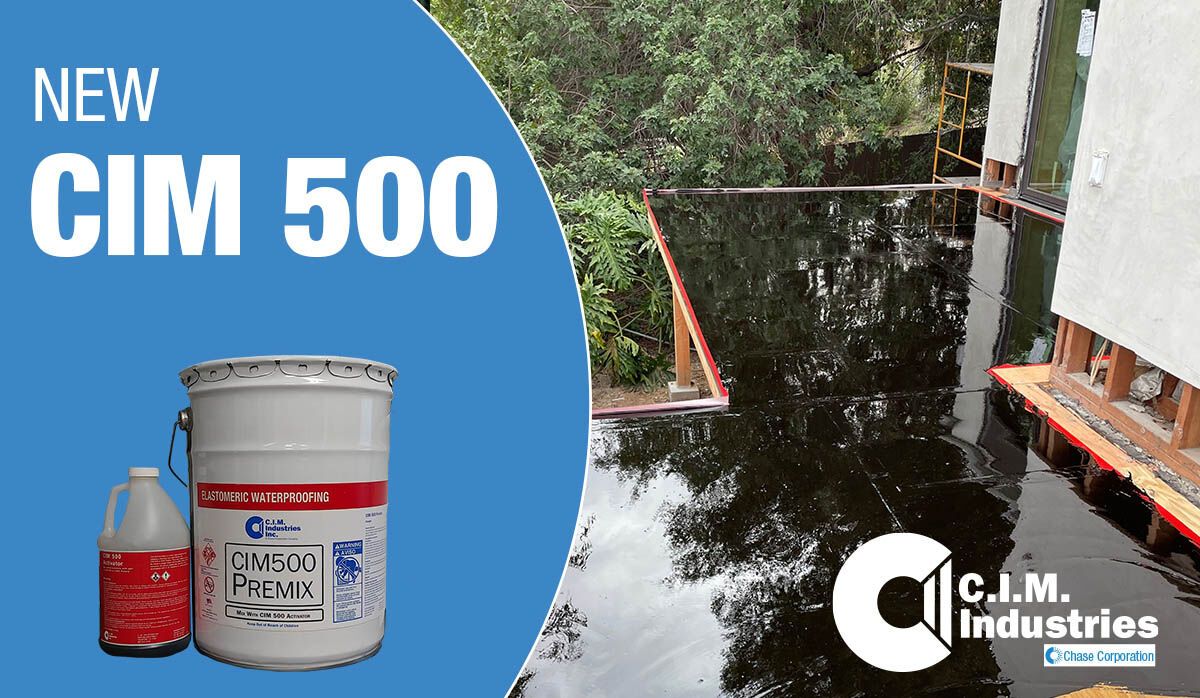 The global waterproofing membrane market is on the rise. With a focus on infrastructure and housing options, growth prospects in the construction sector continue to rise. Markets (including the United States, China, Brazil, and India) are seeing above-average growth in new building opportunities and restoration projects, resulting in an increased demand for elastomeric and waterproofing membranes and other coating products.   
With rapid growth worldwide, CIM Industries and its selection of waterproofing solutions, namely CIM 500, has started to corner the market with its revolutionary technology. CIM 500 is a two-part cold liquid waterproofing membrane designed to meet the demands of buried or non-UV exposed applications. 
Waterproofing Membranes: The Future of Construction 
By 2030, the global waterproofing membrane market is forecasted to cross the $40 billion mark. Moreover, international construction activities and infrastructure advancements support new avenues for such waterproofing membrane products. Waterproofing membranes provide fast and easy installation; they offer a seamless finish across various building types, such as commercial and industrial construction and residential buildings. 
Related Article: Choosing the Right Waterproofing Membrane
Waterproofing is a fundamental necessity in construction, designed to prevent degradation and preserve the integrity of buildings and structures. Many commercial properties and households report issues and damages that boil down to inadequate waterproofing protection every year. Revolutionary waterproofing materials offer the necessary strength and coverage to protect a surface from any liquid that could damage or penetrate it.
Advantages of Waterproofing Membranes
Waterproofing membranes, like CIM 500, are tough and durable, forming an adhesive bond to many materials: steel, aluminum, other metals, wood, concrete, and earth (to name a few). In addition to their long-lasting performance, they are easy to apply by hand using a roller, brush, or squeegee and spray using commonplace multi-component spray equipment.
CIM 500 stands out in the waterproofing membrane market due mainly to its lower water permeability and ability to withstand UV exposure for upwards of 180 days. CIM membranes perform above and beyond thanks to their unmatched tensile strength and low water permeability, whether in areas subjected to low temperatures, sites with high foot traffic, or exposed to constant moisture.
Related Blog: Guide to Applying Cold Fluid Waterproofing Membrane
CIM 500 provides quick and easy solutions ready for use in less than three hours, from roofing applications to planter boxes to plaza or podium decks. Backed up by a 5 to 10-year warranty on various installations, CIM 500 gives consumers and builders a risk-free opportunity to take advantage of this highly reliable and cost-effective product, one that is resistant to chemicals and extends the life of concrete structures.  
Related Article: Protect Waterproof Membranes from Osmotic Blistering
Not only is CIM 500 helping properties maintain their structural integrity, but it also decreases adverse impacts on the environment. Waterproofing membranes can protect structures for longer, reducing the resources needed to build new ones. 
In conclusion, waterproofing membranes, such as CIM 500, will continue to see increased demand. Growing populations, investments in infrastructure, and the desire to conserve resources globally increase the need for advanced protective materials in construction. Contact us for more information!