Congratulations! You have finished installing a two-component, high-build elastomeric coating on the interior of a water detention tank. The next task is to perform a final walk-through inspection. Before we get started, it is important to know what to look for prior to the inspection. Consult the specific job specification as well as any manufacturers literature:
Instruction guides
Specifications
Technical data sheets
Final walk-through inspection items may differ from one application to the next. For the concrete tank liner scenario, we will focus on three common inspection items that can be effective, given the coating service use (immersion).
Tip 1 – Dry Film Thickness Testing
Dry film thickness is the cured thickness, expressed in mils, of a coating applied to the substrate. It may consist of a single coat or multiple coats. Primer coats should be measured separately if applied. Measuring DFT is important because thickness may affect coating performance. Your goal is to make sure that your DFT meets the specification. One reliable method for testing DFT is using a micrometer, which has the ability to measure any coating-substrate combination. The goal is to remove measurable samples cleanly, so they do not contain substrate or primer ruminants. Box cutters and putty knives are common tools used in the process. Follow micrometer calibration and instruction guidelines to record accurate DFT mil thickness. It is common to take multiple samples to provide a range for DFT thickness.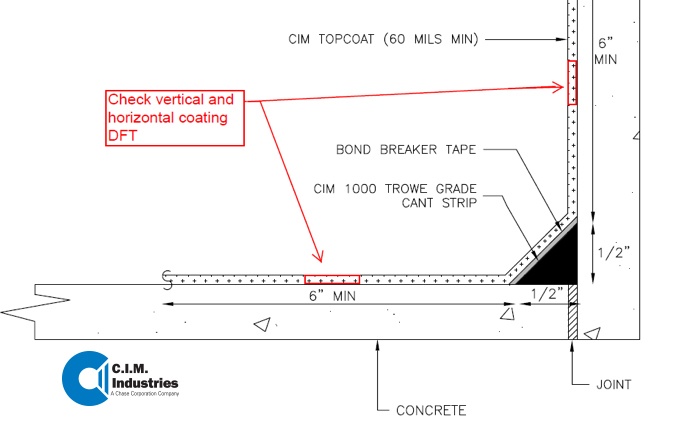 Tip 2 – Pinholes Inspection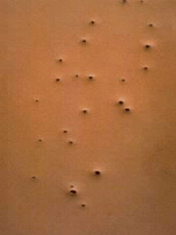 For a service ready coating, we want to assure it is pinhole free. Checking for pinholes/holidays is a common test to help prove moisture barrier effectiveness. Two common test methods are low- or high-voltage holiday detection and 100% visual inspection. The test you choose depends on feasibility and reliability. Low- or high-voltage holiday detection is extremely effective on conductive substrates, such as steel and ferrous metals. Grounding points on concrete substrates are often difficult to locate for low- or high-voltage holiday detection, which can affect testing reliability. For our concrete tank liner scenario, we recommend a 100% visual inspection.
For this test, you will need a flashlight for increased visibility, a magnifying glass for enhanced viewing, and a chalk pencil for marking pinholes. Gridline the coating surface area to map your travel plan, and visually inspect all surfaces, looking for pinholes. Pinholes/holidays can be as small as grains of sand, so close-proximity viewing along with the use of a magnifying glass will help during the walk-through. To determine acceptable criteria, contact the coating manufacturer for repair actions.
Related Article: Documenting Your Coating Application Is Important!
Tip 3 – Degree of Cure
A degree of cure, or hardness testing, with the use of a durometer, can provide evidence that the coating has cured properly and is ready for service. Coating hardness information can be obtained from the manufacturer and can often be found on technical data sheets shown as "Hardness, Shore 00, A, or D." Refer to the table below for rough estimates on the hardness scale.
| | | | | | | |
| --- | --- | --- | --- | --- | --- | --- |
| | Very Soft | Soft | Medium Soft | Medium Hard | Hard | Extra Hard |
| Shore 00 | 0-49 | 49-75 | 75-89 | 90-100 | | |
| Shore A | 0-9 | 10-34 | 35-59 | 60-79 | 80-100 | |
| Shore D | | | | 0-29 | 30-59 | 60-100 |
Too soft, too hard or inconsistent hardness readings can affect performance properties, such as tensile strength, adhesion, elongation and permeability. Perhaps the coating needs more time to cure, or actions need to be taken for repairs. Durometers are simple to use and take multiple readings during a walk-through process. Testing the hardness may leave pinholes in the coating that will need to be repaired.
Related Article: Is a Harder Coating Better? Hardness Scale Tests Explained
A thorough and systematic final walk-through inspection that yields acceptable measures can provide evidence suggesting that a coating is service ready. For unacceptable items discovered, it can pinpoint exactly where repairs or remediation is needed.
If you have any question, you can always contact us.