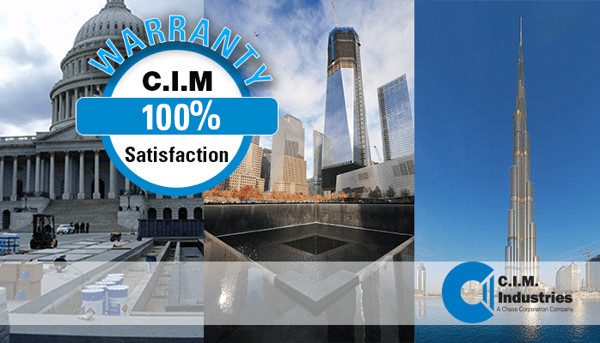 A waterproofing warranty is a legally binding agreement which a company guarantees that some or all its work will be free of defects, typically for a specific length of time, and is normally approved and signed by both the owner of the project as well as a representative of the company manufacturing the product. A warranty provides for a remedy in case there are certain problems with the product provided to the customer. The intent is to provide peace-of- mind to the customer, ensure the product is backed by the company and is consistent with claims related to performance and reliability of the product. If you purchase a waterproofing solution and later discover that it's defective, you can file a claim with the company – assuming the waterproofing solution is still under warranty – to recoup some or all the cost related to the product. A warranty is essentially a company's assurance that its product will live up to its claims.
Types of warranty
There are different types of warranties used in the waterproofing industry. Whether you're buying a waterproofing system for your business or home you should familiarize yourself with the nuances among different warranties. Then you will able to determine the appropriate warranty for your application.
1- Materials-Only Warranty
The most common type of warranty, used in waterproofing and roofing, is a Materials-only warranty. Typically ranging from 5-30 years, it's a limited warranty that specifically covers the cost of materials in a waterproofing installation if those materials are proven to be defective. If a coating or other component of a waterproofing solution shows a failure within the warranty period, for example, a materials-only warranty will recover the cost of the failed product, or repair/replacement by the manufacturer. Most companies do not charge supplemental fees for a materials-only warranty.
2- Labor and Materials Warranty
With a materials-only warranty, only the materials used in the waterproofing system are included as part of the warranty. A Labor and Materials warranty covers both the labor and materials of the waterproofing system, as the name suggests.
Typically, a contracting company installs a waterproofing system using coatings supplied by manufacturers. Depending on the scope of the project, it may take them several days to complete the project. A longer installation increases the risk of water damage to the project It is imperative that the contractor provides an estimated date of completion. If the contractor failed to install a waterproof membrane properly, and the installation is still within the warranty period, then a Labor and Materials warranty can be utilized to recover the cost of both the labor as well as the materials used in the project. In this case, the manufacturer covers the cost of the materials used, while the contractor will be responsible for the labor.
3- Labor and Materials with Overburden Warranty
Some waterproofing companies offer a warranty including both replacement of Labor and Materials with exhaust warranty. Similar in scope to the Labor and Material warranty, it his warranty covers both the Labor and materials associated with a waterproofing system. In addition, the Overburden portion of the warranty covers costs associated with removing and replacing the defective product, including any ancillary products used over the waterproofing system
Waterproofing installations are often installed under tile or other hard flooring. Under only a Labor and Material warranty, if a membrane fails, the client be responsible to pay to remove and replace the tile or flooring. This, of course, can be expensive, especially if the membrane covers a large area. A Labor and Material warranty, with overburden addition, will cover the entire cost of replacing the membrane, including removing and installing new tile or flooring, "overburden." In this regard, Labor and Material warranties with overburden is a more comprehensive warranty and provides greater coverage than the waterproofing warranties listed above.
4- NDL Warranty ("No dollar Limit")
When reading the fine print of limited waterproofing warranties, you'll discover that most have a maximum claim amount. If the cost to replace a defective product is greater than this amount, you may have to pay the difference. A limited roofing warranty, for instance, may cover up to $5,000. But if the actual cost to replace the defective roof is $7,500, the client will face a $2,500 bill. Therefore, some home and business owners prefer an NDL or "no dollar limit" warranty.
An NDL warranty is a type of contract that covers costs associated with repairing or replacing the defective waterproofing system. Unlike limited warranties, it has no maximum coverage amount. Whether it costs $500 or $50,000 to fix the defective waterproofing solution, an NDL warranty guarantees that the company will pay for it.
Keep in mind that many companies charge an incremental fee for NDL warranties. The longer the NDL coverage, the more you'll have to pay. As time progresses and the risk of failure increases, these companies will likely increase the ongoing prices of their NDL warranties.
To qualify for a warranty upon project completion, with the exception of a limited Materials Only warranty, many waterproofing manufacturers require application by a contractor that has attended and completed "factory training" for the product or system they are installing. Using an approved or factory trained applicator offers the following advantages:
it ensures that a manufacturer's published data for correct methodology for surface preparation and installation is followed and adhered to,
it minimizes the risk of repairs due to improper installation, and
experienced factory trained companies install the system in an efficient and timely manner, thereby meeting established construction schedules and completion dates.
Manufacturers normally may also require third-party inspections of the installations as well. This cost is passed onto the owner. The advantages of having a third-party inspection conducted on a project are
pre-construction meetings, where the scope of the project is reviewed by all parties
design reviews,
"mock-up" inspections and adhesion test approvals prior to an installation's commencement, and
observations, inspections and written reports during critical installation phases such as surface preparation, primer application, detail work, base and finish coat(s) applications.



Weighing the Cost vs. Value of a Waterproofing Warranty
Except for Materials-only warranties, the warranties covered here are typically sold as an additional cost with waterproofing solutions. In addition to a base price, companies typically charge $0.50 to $1.50 per square foot of waterproofing coverage area for these add-on warranties. Therefore, the owner should consider the size of your project to determine if an add-on warranty is a good investment.
Different waterproofing warranties offer varied lengths of protection and coverage. Some owners assume that warranties with longer coverage are better than those with shorter coverage, but this isn't necessarily true. A five-year warranty from a reputable contractor and manufacturer may deliver both a quality product as well as a proper installation method. Unfortunately for owners, there are companies that manufacture poor performing products and contractors that try to avoid paying or responding to claims. In this case, buyer beware. Work with reputable contractors using high-quality materials.
An owner shouldn't assume that a warranty will cover the cost of a building's water damage because of a failed or improperly installed waterproofing system. Whether it's a Materials-Only, Labor and Materials or any other type of warranty, it generally covers only the cost of repairing or replacing the waterproofing system and, usually, only in affected areas and not incidental damages.
Final Thoughts on Waterproofing Warranties
A warranty is something that's good to have even if it is never used. It demonstrates the commitment of waterproofing manufacturer. As an owner, it is important to understand your warranties and your options for warranties to match the requirements of your project.
Contact us if you have any question.