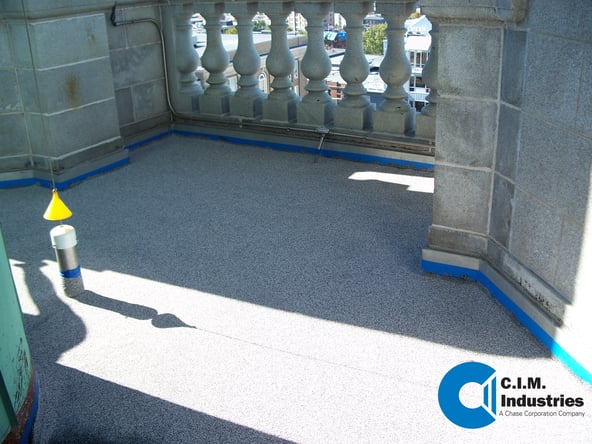 Aggregates are commonly used in conjunction with liquid applied coatings to provide a combination of the following:
Protection:

Light colored aggregates lower deck temperature extending the life of liquid coatings
Non-skid surfaces:

For foot traffic
For automotive and other traffic
Exit areas for pond, containment, and other sloped surfaces
Energy costs:

Lighter colored aggregates will reflect solar energy, whereas dark-colored liquid coatings will absorb heat. Aggregate will reduce coating temperature by as much as 70 degrees on a hot summer day.
Provides a rough surface in which to enhance the bond of other paints, coatings, and topcoats (asphalt, concrete, tile applications)

For compliance with ANSI 118.10 IAPMO Approval for applications such as plaza and balcony decks.
There are many types of aggregates that can be used and the ultimate choice will depend on the desired result. All aggregates should be kiln dried to avoid any moisture contamination. Below is a list of commonly used aggregates:
Aluminum oxide
Flint silica
Silica
Colored quartz
Glass beads
Synthetic aggregate
Download >> TOPCOATS Application Guide
It is important when using aggregates that the required base coat of liquid coating is applied. CIM's urethane basecoat must be a minimum of 60 wet mils and can be applied up to 120 mils. The basecoat should cure for 1 to 4 hours followed by the application of a 10 to 20 mil tack coat. The thickness of the tack coat will be dependent on the size of the aggregate. Immediately broadcast the aggregate into the tack coat until "refusal".
The strongest and most robust of these aggregates is aluminum oxide, which is used where skid resistance is a priority. The aggregate surface provides an excellent surface profile for subsequent applications of topcoats such as paint, plaster, thin set or asphalt overlays
If an aesthetically pleasing coating is desired, colored quartz can be broadcast into the CIM membrane. To seal in color, additional topcoats may be used to enhance sheen or to preserve the surface from heavy pedestrian traffic.
Both flint silica and silica sand wear down quickly with high pedestrian traffic, and are used primarily when a topcoat of a paint will be applied. Glass beads and synthetic aggregates are the least aggressive types of aggregate but still produce a level of skid resistance. Depending on the application, they can also produce a pleasing aesthetic outcome when used in decorative applications such as pool and countertop plaster finishes.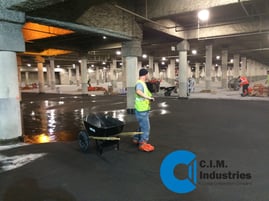 Understanding the use and function of waterproofing applications can help determine which aggregate is appropriate.
Coating manufacturers typically have specific procedures for applying an aggregate application into their systems, so it is important to follow all manufactures recommended instructions
By adding cost-effective aggregates to a paint and coating topcoat, a safe, tough walking or driving surface can be achieved. Alternatively, by using an aesthetically pleasing aggregate such as quartz or glass beads, a beautiful and functional waterproofing membrane may be achieved.
Please contact us for more information about our products,